At Broadstroke Consulting, we understand that technology alone is useless. True value comes from a clear understanding of how to apply technology to solve your business problems and support your company's strategic decisions.
Broadstroke Consulting was formed to bridge the gap that commonly exists between complex technologies such as SQL Server or Hadoop and the strategic decision-makers who are tasked to put those technologies to good use.  We recognize the need for information technology experts to communicate clearly with the professionals who are accountable for IT decisions that will impact their company. With this in mind, we have developed a niche set of services designed to support a SQL Server environment.
Sure, there are plenty of well-trained SQL Server administrators and developers out there, but in our experience, very few can interface with business professionals directly and effectively.  At Broadstroke, we pride ourselves on the ability to deliver outstanding support with personal care.  We help our clients to manage their SQL infrastructure in a friendly and warm manner that communicates to customers that we're focused on serving them.  We like to think of ourselves as "data geeks with people skills."
Expertise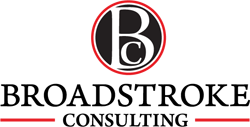 Broadstroke Consulting specializes in following areas for both Microsoft SQL Server and Hadoop; Performance Tuning, Security Auditing, Server Administration, High Availability and Disaster Recovery planning as well as Project Management. During all engagements, Broadstroke is committed to communicating clearly with our clients throughout the engagement process and afterwards.
How We Can Help
Take a look at these questions.  If one or more resonate with you or your business, there could be an excellent opportunity to solve your most troubling database problems with services from Broadstroke Consulting.
Are you developing software using Microsoft SQL Server and/or Hadoop as your database storage engine?
Do you need help with SQL Development?
Is your SQL database administrator overworked and in need of a vacation?
Do you need help with designing a High Availability Solution?
Are your customers complaining about poor query or report performance?
Does your DBA team need more training?
Do you need a SQL DBA but cannot afford a full-time resource?
Does your SQL infrastructure need a health check?
Do you know just enough about SQL Server and/or Hadoop to be dangerous to a production environment?
If you said yes to any of these questions, then we'd welcome the opportunity to problem-solve with you. Contact us!