The SQL Saturday Indianapolis event was FANTASTIC.  It was Broadstroke Consulting's coming out party.  We have never done anything like this before.  This was our first sponsorship and it was a lasting experience.
Going through the process from figuring out the language on our marketing material to getting BSC Hydra ready for public introduction, it was a frantic few months leading up to the event.  It was ALL worth every penny, drop of sweat and hour lost in sleep (sleep is over rated, anyways, right?).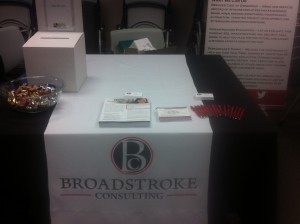 Having the opportunity to speak to just about everybody that came by our booth, it was great to meet such a diverse group of people all of which have some level of passion for SQL Server.  (Whether it be love or pure dread, passion for something related to SQL Server.)
The Indianapolis SQL Community's reaction to what we are doing with Broadstroke was very reassuring in that we are on the right track with doing something different, but familiar to all.  I hope all those who we handed a BSC Hydra download postcard has had a chance to download and give it a whirl.  We are extremely excited to get this future product into your hands and hope you have a chance to provide the feedback we so eagerly await.
My presentation went very well (albeit a little long) considering I was working on slides up to 20 minutes prior to my presentation.  (Whew, talk about cutting it close, but I have always said I work best under pressure.)  I am extremely grateful to those willing to provide feedback regarding my session and they were all very positive and constructive, for that I THANK YOU ALL!!!
It was wonderful to run into so many people of which I have either worked with, am working with or have worked for.  I never considered how big that number has grown to, but darn I was a little taken back, in a VERY GOOD way.  I am just happy to have been given the opportunity to interact with all of you using the topic of SQL Server as our means of introduction.
We at Broadstroke are already planning for next year and are looking forward to hanging out with you all again.  Have a wonderful day!
Remember we are all in this together, so let's keep supporting each other while we collectively learn more about this beast called MS SQL SERVER!!!
Written by: Warren Sifre